OUR PROJECTS
Preserve Lawson Landmarks (PLL) was established in 2021 with priorities including the repair of the property's six original water towers, including Judson Tower; repair of the stone walls and bridges throughout the property; and restoration of the boathouse. These structures are highlighted on this map.
COMPLETED PROJECTS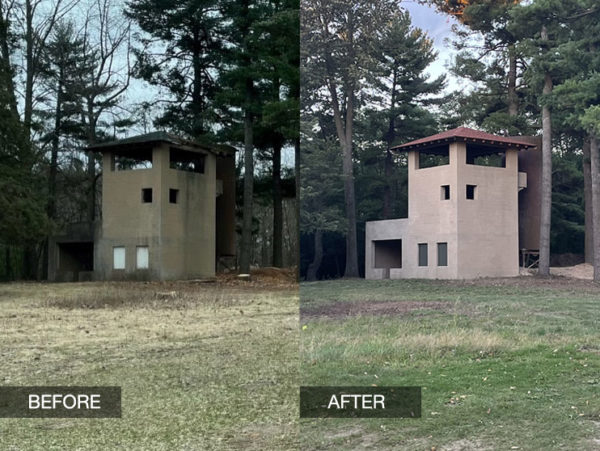 PROSPECT tOWER
Prospect Tower is back to its original glory thanks to the help of our donors, vendors, volunteers and in-kind donors. The new roof was a monumental undertaking and has been completely rebuilt. A new door in the original style was built and painted along with the installation of newly painted windows. The entire structure received a state-of-the-art, high-pressure surface cleaning and the trees and vegetation surrounding the tower were trimmed and cleared. We are beyond grateful to all those who donated to Preserve Lawson Landmarks first project. We are appreciative of your trust in us to get the job done!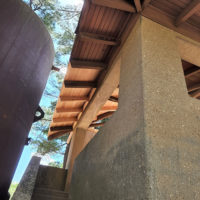 GUILD TOWER
Preserve Lawson Landmarks is excited to announce our second project to be completed in 2023, Guild Tower. Guild Tower is located at a highly visible location just inside the main gates of the Green Lake Conference Center on Lawson Drive and Stone House Road. This tower welcomes a multitude of visitors to Lawson's beautiful grounds 365 days a year. We recently removed a non-original door and windows from the second level of the structure. Similar to Prospect Tower, Guild Tower will need significant roof and surface work along with improvements to the surrounding landscape. When possible, all improvements will be done to match the original materials from the Lawson-era. The lessons learned from our Prospect Tower work will provide the foundation for a more efficient and streamlined approach to the Guild Tower repairs.
WATER TOWERS
There are six original water towers on the grounds, each built during the Lawson era, between 1911 and 1914. Each tower was initially filled with water from its own well, and the towers were used for watering nearby plants and gardens, as well as to suppress the dust from the unpaved roads. Judson Tower is perhaps the area's most famous landmark. It was built in 1908 and stands 200 feet above the lake level. It was built for use as a 75,000-gallon water tank by the Lawsons. While all six towers need repair, Prospect Tower was identified by Preserve Lawson Landmarks as the priority and the first restoration project of that tower has been completed.
STONE WALLS AND BRIDGES
There are stone walls and bridges throughout the grounds. The stones are boulders created by glaciers in the area and the Lawsons paid area farmers 50 cents a load for their stones.
BOATHOUSE
The boathouse was built in 1910, based on a design Jessie Lawson saw in Switzerland. The original green roof tiles were imported from Italy.